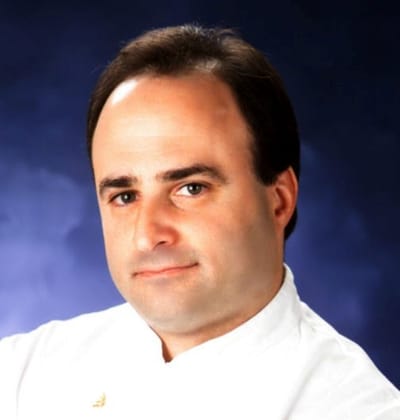 Chef Rick Tarantino or "Chef Rick" as he's known in the media is both a professional chef and media personality. He has a BS degree from UMASS Amherst for the college of Food Science and Nutrition and a Master of Science from the prestigious Johnson & Wales University, where he had a 10-year career as both and executive and professor. He has been a member of the American Culinary Federation for over 25 years. He began his career on TV after befriending and training the Guinness book of world records youngest chef, Justin Miller, the two appeared on every major talk show and news station across the country from The Food Network to Good Morning America.
Currently he is co-owner of City Beef Company, a 61-year-old USDA meat facility located just two blocks from the New Jersey State Capital in Trenton. In addition, he is President of Tarantino Food Group, LLC, and the Director of Research & Development for Rastelli Foods Group, one of the largest proteins and culinary solutions providers in the USA. Chef Rick specializes in the commercialization, production conversions and recipe research & development, of direct to consumer foods and kitchen appliance testing for industry leaders.
Chef Rick is sought after to work on new products for Many Celebrity Brands, QVC, NBC Shark Tank, Home Shopping Network, and many commercial products you eat every day. You might even catch him on TV commercials as a celebrity chef for Hood Cottage Cheese and Heluva Good Dip & Cheese or if you're up late you may have seen him pitching, you on an infomercial. His Culinary clients include national brands such as Crockpot, HP Hood, Rastelli Foods, FlavorSeal, Thin n Trim meats, Baileys Coffee Creamers, All Clad kitchen products, Bialetti Italian Cookware and FlavorStone Cookware. He has appeared for over 10 years at the prestigious International Housewares Association show in Chicago on the Main Culinary Stage.
Chef Rick appears can be seen selling food and kitchen products on QVC in the USA and London England, TVSN Australia, and Shopping Channel Canada. He hosted The Chef's Table with Rick Tarantino, on NBC's affiliate station ShopNBC. He is also on the editorial board and writes insights and reviews for Frozen & Refrigerated Buyer, a leading frozen and refrigerated foods trade magazine for the supermarket industry and is a founding member of Food Service Industry Serving Hero's, a non-profit foundation serving Veterans and Active Military. Often seen on many culinary tours cooking in supermarkets chains and trade shows across the country for Supermarkets like Hannaford's or Promoting National brands like Dietz & Watson meats. Appearing with celebrity guest like the Discovery Channels Deadliest Catch Star Andy Hillstrand of the Time Bandit and most recently on the hit show "The Profit "with Marcus Lemonis.
Over the years Chef Rick has worked with culinary giants like the late Julia Child and his good friend and inspiration Emeril Lagasse. He has received media training from New Product Launch Specialist & PR agency Schneider & Associates in Boston, MA. and Allen & Gerristen Brand Promotions in Boston, MA. along with many more. When is not in the test kitchen or on TV, Rick has strong family centered values and spends all the time he can with family. Together with his wife they have two sons and three daughters and of course spend quality time cooking in the kitchen and sharing his love for food and people...